The Mason Tenders' Training Fund offers an apprenticeship program for Local 79 that trains participants to become Skilled Construction Craft Laborers. The program begins with three weeks of free training followed by paid on-the-job training and work experience at job sites throughout New York City. Among the skills Local 79 apprentices learn are general construction, site maintenance, interior and total building demolition, and mason tending. Safe work practices are central to all training received. Journeyworker status is achieved upon completion of approximately 400 hours of classroom instruction and 4,000 hours of on-the-job learning.
The minimum requirements to become an apprentice are as follows:
18 years or older
High School diploma or G. E. D.
Physical capability to perform the work
Passage of drug screening (upon selection to the program)
Admission to the Apprenticeship Program is primarily from candidates selected from a general recruitment, which occurs once or twice a year. The Mason Tenders' Training Fund website will announce the date for the next general recruitment. All New York Apprenticeship Recruitments are announced on the NYS Department of Labor website where you can learn more about the requirements and processes for each program.
There are also programs in the Apprenticeship Readiness Collective that, upon successful completion, allow for direct entry into a NYC Building Trades Apprenticeship Program. The names and websites for these direct entry programs follow: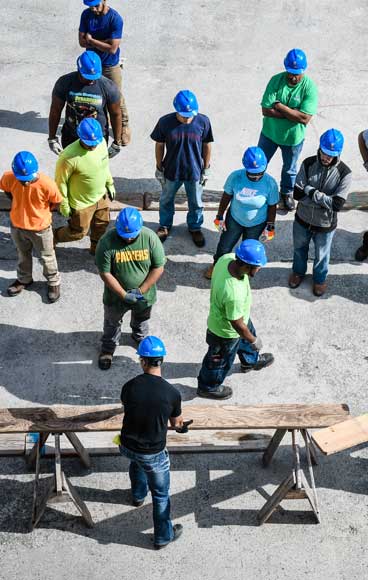 For more information about the Apprenticeship Program, open recruitment procedures, and the Mason Tenders' Training Fund, go to:
Mason Tenders' Training Fund
Local 79 also periodically runs a pre-apprenticeship program with community partners.
We're Fighting for the Future of New York City Construction