Local 79 appreciates the tremendous sacrifices and contributions of its retired members. The Local 79 Retiree Council, formed in 1996, honors the work of the retirees, helps them stay connected to other retirees and active members, and advocates for better retiree benefits. The Council is comprised of retired and active members elected on a yearly basis. The Retiree Council's responsibilities include:
Maintaining ties to the Laborers' International Union of North America (LIUNA)
Recommending social and recreational activities
Keeping retirees informed of union programs and policies
Enlisting support of retirees for political objectives
Advocating special needs and problems to the Local
Forming committees of special interest
Retirees are invited, with a spouse or companion, to come to many special events throughout the year. There is never any cost involved. Dates and details of upcoming events can be found on the events page of the website.
Local 79 also produces a semi-annual newsletter, sent to every active retiree's home, which includes information about current union activities and issues of interest to the membership. If you wish to read the newsletter online, it is available below.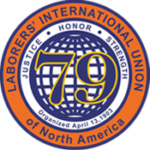 Juan Mazlymian
Vice President
Sal Pagano
Secretary-Treasurer
Fil Ortiz
Recording Secretary
Mark Albritton
Alternate Trustee
Retiree Committee
Kenny Robinson
Melissa Siciliano
Anthony Vita
We're Fighting for the Future of New York City Construction