Local 79 is governed by an Executive Board, all of whom are elected by the membership. A number of departments carry out the daily operations of Local 79. These operations include negotiating and monitoring compliance with collective bargaining agreements, placing shop stewards, dispatching members, collecting dues, disbursing funds, grieving violations of collective bargaining agreements, and carrying out organizing work to ensure that all construction work is unionized. Use the links below to view the different departments.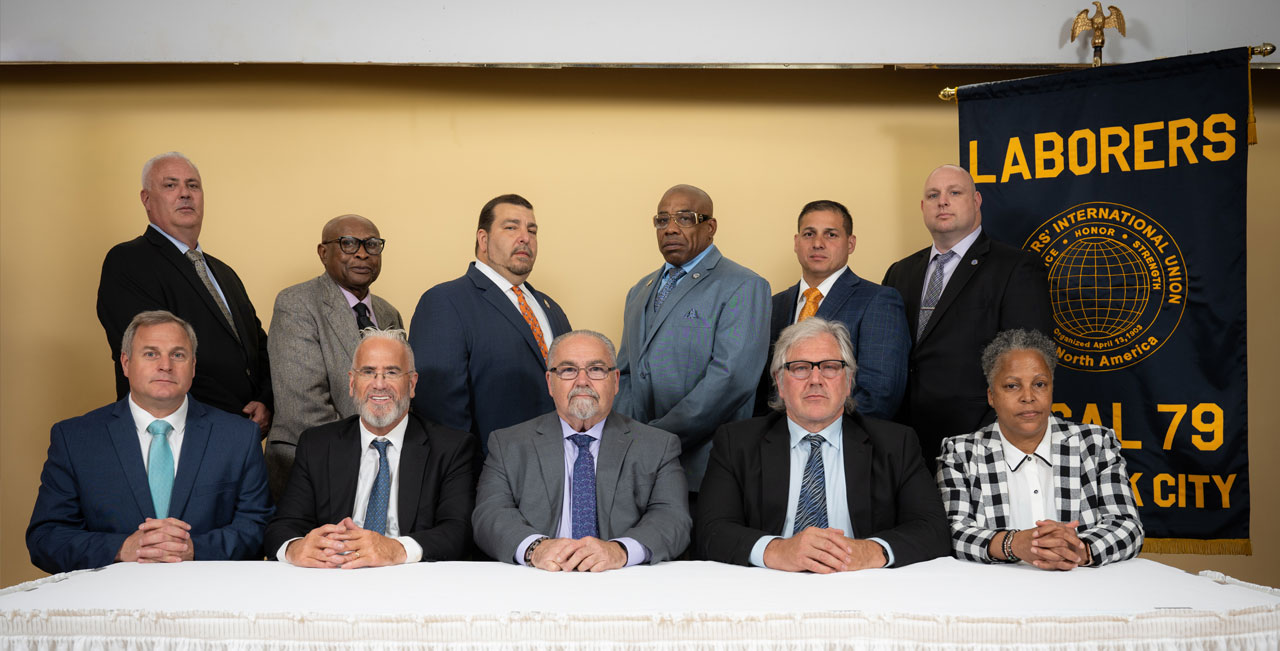 Michael Prohaska
Business Manager
Chaz Rynkiewicz
Vice President
Anthony Vita
Secretary-Treasurer
Wendy Webb
Recording Secretary
Jason Delgado
Sergeant-at-Arms
Barrie Smith
Executive Board Member
Steve Andujar
Executive Board Member
Anthony Williamson
Auditor
Business Manager's Department
The Business Manager is the recognized representative of Local 79. The Business Manager is responsible for making sure the affairs and business of the Local 79 are being properly conducted, appointing and supervising stewards, directing and supervising the activities of all Business Agents and Organizers, and for ensuring that the provisions of all collective bargaining agreements are enforced and respected.
Contact Information for the Business Manager's Department:
Secretary-Treasurer's Department
The Secretary-Treasurer's Department is responsible for receiving all monies payable to Local 79, disbursing funds in accordance with the Local's constitution, and accounting for all monies received and disbursed. The Dues Department is part of this department and is responsible for collecting all membership initiation fees, monthly dues, and delinquency fees.
Contact Information for the Secretary Treasurer's Department:
The main function of the hiring hall is to maintain the out-of-work list and to dispatch Local 79 members who are on the out-of-work list to work sites according to a set of established guidelines (Hiring Hall Rules) The hiring hall requires all members who are not working to re-register for the out-of-work list during the first five business days of each quarter. Quarters begin January, April, July, and October.
Contact Information for the Hiring Hall:
The Grievance Department works to resolve issues related to Local 79 signatories not adhering to one or more provisions of the collective bargaining agreement to which they are bound. Members should not call the Grievance Department directly about worksite problems that may result in formal grievances. Instead, members should report the problem to their Shop Steward who will, in turn, report the problem to the Business Agent, who will then file a grievance. If necessary, Members can speak directly to their area Business Agent.
The Grievance Department also issues checks to members resulting from successful arbitration of grievances. Checks are distributed Mondays, Wednesdays, and Fridays from 9:00 am until 5:00 pm.
Contact Information for the Grievance Department:
The Organizing Department main goal is to organize all workers in the five boroughs who work at the craft that falls within Local 79's jurisdiction. The strategies employed by the Organizing Department to achieve this goal vary and include the following: establishing relations in communities through outreach and volunteer work; encouraging developers to use union contractors; helping non-union workers understand the benefits of unionized labor; getting legislation passed that guarantees that projects involving public funds, land, or tax abatements will pay prevailing wage.
Contact Information for the Organizing Department:
We're Fighting for the Future of New York City Construction