VOTE "NO" TO THE NYS CONSTITUTIONAL CONVENTION ON TUESDAY, NOVEMBER 7
November 7, 2017 @ 8:00 am

-

5:00 pm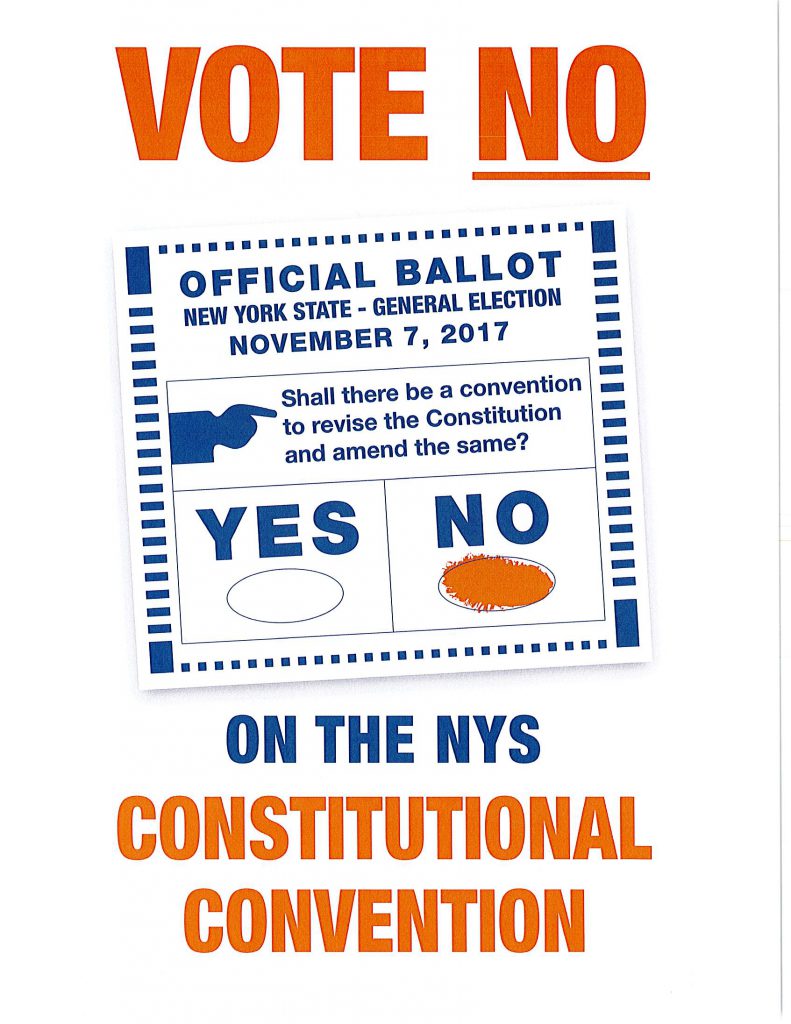 REMEMBER TO VOTE ON TUES NOV 7!
New York City Endorsements:
Mayor                     Bill deBlasio
Public Advocate     Letitia James
Comptroller            Scott Stringer
City Council,
District Attorney & BP Races
Manhattan
BP                   Gale Brewer
1st                   Margaret Chin
2nd                 Carlina Rivera
3rd                  Corey Johnson
5th                  Ben Kallos
6th                  Helen Rosenthal
7th                  Mark Levine
8th                  Diana Ayala
10th                Ydanis Rodriguez
The Bronx
BP                  Ruben Diaz, Jr
11th                Andy Cohen
12th                Andy King
13th                Mark Gjonaj
14th                Fernando Cabrera
15th                Ritchie Torres
16th                Vanessa Gibson
17th                Raphael Espinal
18th                Rev, Ruben Diaz, Sr.
Queens
BP                   Melinda Katz
19th                Paul Vallone, Jr.
20th                Peter Koo
21st                Francisco Moya
22nd               Costa Constatanides
23rd                Barry Grodenchik
24th                Rory Lancman
25th                Danny Dromm
26th                Jimmy Van Bramer
27th                I. Daneek Miller
28th                Adrienne Adams
29th                Karen Kozlowitz
30th                Elizabeth Crowley
31st                Donovan Richards
32nd               Eric Ulrich
Brooklyn
BP                  Eric Adams
DA                  Eric Gonzalez
34th                Antonio Reynoso
36th                Robert Cornegy
37th                Rafael Espinal
38th                Carlos Menchaca
39th                Brad Lander
40th                Dr. Mathieu Eugene
42nd               Inez Barron
45th                Jumaane Williams
46th                Alan Maisel
47th                Mark Treyger
48th                No Endorsement
Staten Island
BP                  Jimmy Oddo
49th                Debi Rose
51st                Joe BorelliNassau
For more information on the Constitutional Convention, click on the Political Action link on Local 79's main page.
Share This Story!